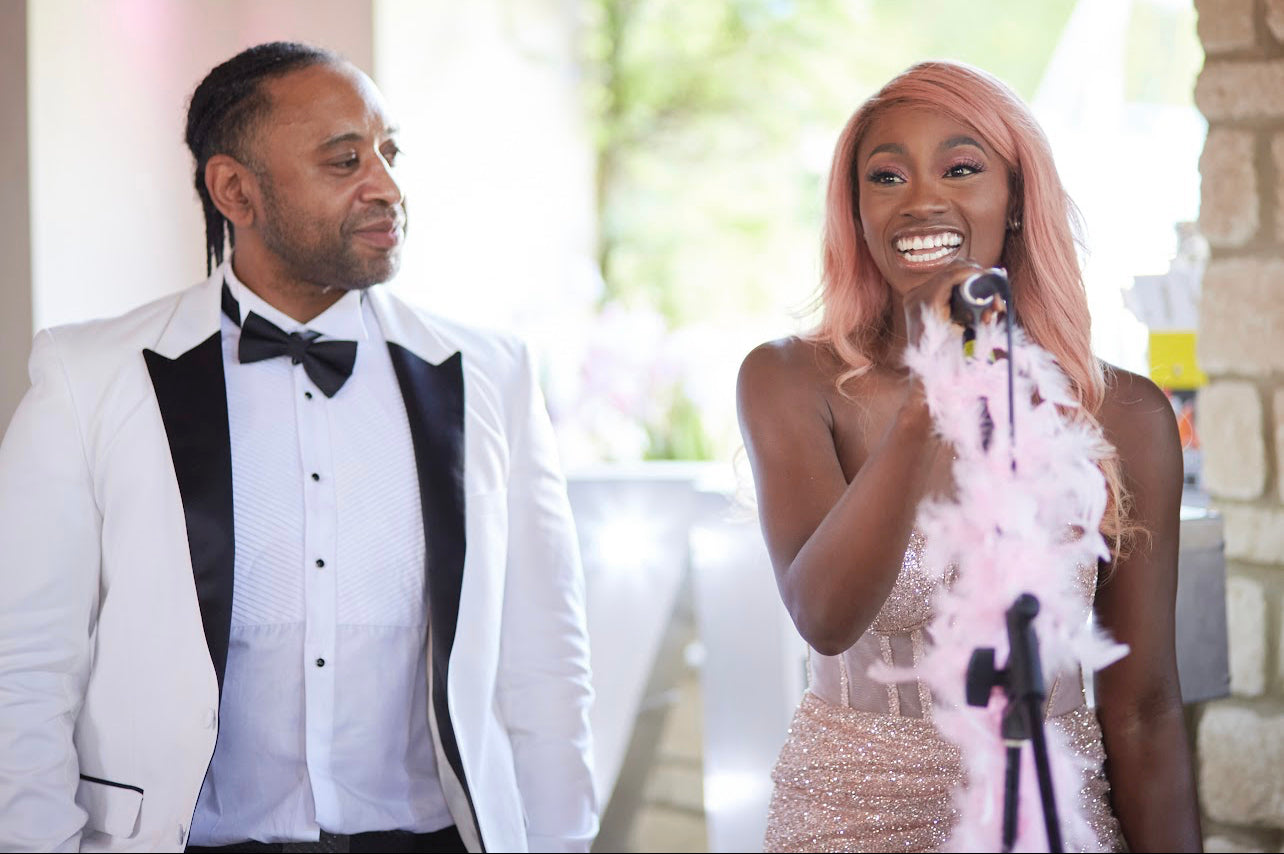 Weddings can bring the best and worst out of people.
I was very conscious not to become a bridezilla.
In fact the morning before the wedding I was chilled. Super chilled! People kept saying "isn't she just so chilled!"
I did a tip run in the morning and went and got a coffee, ran some errands, everything was running to schedule.
My Make up artist, the film crew and some of the flower girls arrived late. (Northampton Carnival was on and they closed the roads 😬)
When this happened, I had to put on my 𝗕𝗢𝗦𝗦 𝗟𝗔𝗗𝗬 hat. and ask myself…..What is the most important thing here? The most important thing was wrapped up in my values and my mission for this wedding.
You see me and Terry have been together for 19 years and have 10 and 11 year old boys. This wedding has been overdue.
Our guests were our number one priority. We wanted our guests to have an experience. We wanted our guests to have the best time.
A Red Carpet and paparazzi style photos to be taken. I envisaged the flower girls showering them with petals with a film crew capturing every moment.
This also included a buzzing drone hovering above them as they posed for photos!
I kept thinking this would be epic!
Next the guest were to be offered a glass of bubbly and as they walk into the garden to be announced by our MC's Amy and Glen.
But things started to go wrong, the guest arrived before the crew.
The sun started to get hotter and as I was upstairs getting my makeup done while on the phone barking orders.
I turned into machine some people might say bridezilla.  I was barking orders left right and centre and whenever anyone tried to say, oh, it won't work, or no, we can't do that.  I would just say I have a vision. I know what I want. Can you do it?
I was faced with objections from family members and and the wedding event coordinator, everyone was saying but we can't do this but we can't do that. And then I realised I can't just bark orders at people.
But tried! 
My brother in law and my sister in law had been given the task to pour all of the bubbly into 100 flutes and place on a table ready to serve after the red carpet.
I rang them and said we need to move that table with all the flutes on outside. We need to move it to a different location, because we're going to keep all the guests outside before we let them enter into the garden. And they said but we've poured all of the drinks out already.
I said tip all of those drinks into jugs and then re pour them when they're outside. Can you do that for me?
They hesitated. Terrance said no, leave it!
I then realised I sounded crazy to everyone.
This was the moment I shifted gears and said put me on loud speaker to everyone helping.
Let me share with you my vision.
It took less than 1 minute.
They all said ok, let's do it!
In every organisation at every level, everyone has to understand what the mission is, what the vision is, what the values are.
As soon as I had expressed to my event planner, my wedding coordinator, the MCS, my family and everyone who was behind the scene what my vision was; the quicker we could pivot and make it a reality.
So I'll leave you with this. If there is something that you want to achieve, and you need a team of people,  don't try and do it without sharing your vision.
Give them the vision, give them the mission, paint them the picture, tell them how important the part is that they play in the story.
You must share your Vision.
So you can decide if I was a bridezilla? 😂